Another iOS code-snippet:
I had a UIPageViewController in scrolling-mode that would allow to pan between view-controllers using a finger gesture. However, I wanted to restrict the panning area to a certain area of the screen, for example as shown in this screenshot: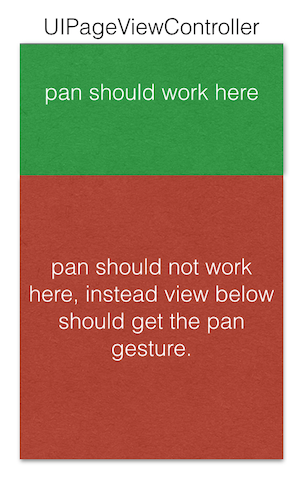 I do it by subclassing the UIPageViewController, finding its UIScrollView, and adding a new UIPanGestureRecognizer to that scrollView.
I set my subclassed UIPageViewController to be the delegate of that new UIPanGestureRegognizer. I then implement two delegate methods:
In the last override I decide if I want to "eat the event" (reply YES) or if I want the original UIPanGestureViewRecognizer of the UIScrollView to handle it (reply NO). So, the YES-reply means the UIPageViewController will not scroll to the next ViewController.